Social travel made easy.
Share past trips and upcoming plans in seconds. See where your friends are going, what they recommend doing, who will be nearby, and more!
No need to register – just click above to connect using Facebook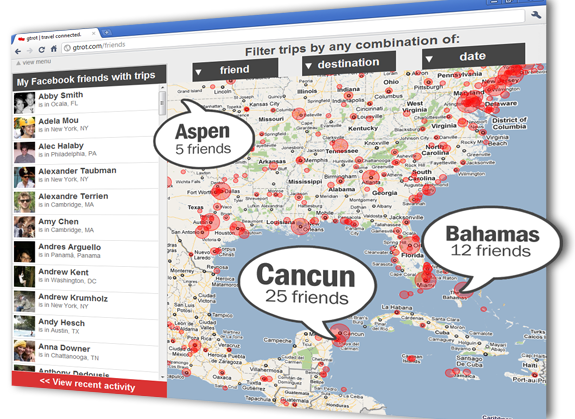 We're integrated with

!
Share check-ins on your travel map in real-time. Easily add tips about hotels, restaurants, and attractions you visited during your trip.
"There are Web sites for sharing car rides, booking tickets and, of course, social networking. Gtrot...plans to combine them all."

"gtrot will catch like wildfire in 2010. If you're not using gtrot then you're not optimizing your travel experience."

"The Priceline.com Negotiator might not be lookin' so fresh n' fierce after this one-two punch."

"Regardless of what you use it for, gtrot represents a vast improvement over status quo travel planning, and is a great tool for both traveling and socializing."

"Easy-peasy, no registration necessary, travel-sharing, trip-planning goodness"

"by seeing where they've gone before, friends become a resource full of advice about your next destination."