Post with 2 notes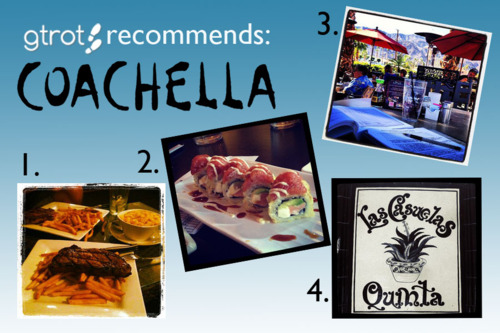 If you're reading this and you are Coachella bound, let us just say that we are very jealous. The first weekend of the Coachella Valley Music and Arts Festival is quickly approaching and we're here to give you a few recommendations on what to check out in Indio, California and surrounding areas. (Not that you'll have much free time!)
Most first weekend festivalgoers are heading to the desert today. This may be your only time to explore the city you'll be partying in for the weekend. We all know you'll be worn out by Monday, even if you do have a little free time. Hang out with friends before the big weekend at one of these restaurants: 
2. Sam's Sushi - Treat yourself to a delicious lobster roll!
3. Stuft Pizza
4. Las Casuelas Quinta - Order chips, guac and a huge margarita to get yourself in party mode.
Check out gtrot.com to find more things to do in Indio, Palm Springs and La Quinta during the Coachella Festival! Create your own collections of things you've done and things you want to do in any city on gtrot. 
Source: gtrot.com