Photo with 1 note
Airbnb's Global Growth Infographic
Wow! Look at how Airbnb has grown!
Source: airbnb.com
EyeforTravel Social Media and Mobile in Travel Infographic
Photo with 3 notes
Isn't this a cool Mystery Photo? Where do you think this photo was taken?
Source: facebook.com
Chat reblogged from Untitled with 3 notes
Can you recommend places to go in NOLA?
New Orleans is a wonderful city rich in culture! Check out gtrot.com for personalized recommendations and get suggestions from friends!
Here are a few of our favorites:
Tipitina's
Camellia Grill
Deanie's Seafood
Cafe Du Monde
Happy Travels!
Source: greatdawnini
Post with 5 notes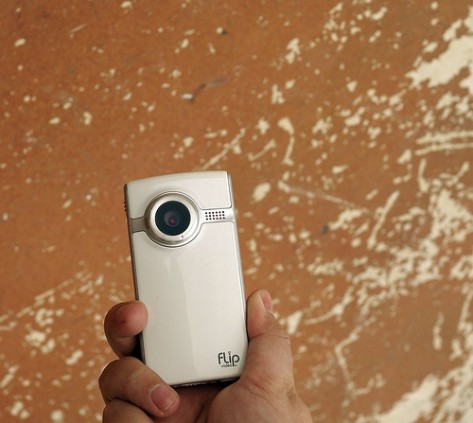 Any travel plans in the coming months? Tell us where you're headed for your chance to win a Flip video camcorder and a gtrot travel pack!
Giveaway Rules:
1.Tweet @gtrot where you're going this year using the #gtrotfliptrip hashtag. Be creative, just make sure the tweet has a destination and #gtrotfliptrip!
2."Like" gtrot on Facebook.
3. For an additional entry, share where you're traveling this year on our Facebook wall.
4. That's it! What are you waiting for?
A winner will be chosen at random next Travel Tuesday, January 10, 2011.
Happy travels!
Source: gtrot.com
Photo with 7 notes
We got a makeover, just in time for the New Year. What do you think? Look inside! http://gtrot.com
Source: gtrot.com
Continuing our conversation from yesterday, this morning Nilou Motamed, Features Director at Travel + Leisure, stopped by the Today Show to discuss the best destinations to unplug. She mentioned that we'll be seeing more of black hole resorts in the future. In a recent poll on today.com, 81% of people said they needed quiet time.
Check out these 6 quiet destinations Motamed mentioned on The Today Show:
1. Fairmont Kenauk At Le Chateau Montebello, Quebec
2. Arawak Beach Inn, Anguilla
3. Ranch At Live Oak Malibu, California
4. Casa Violeta, Talum, Mexico
5. Boulder Outdoor Survival School, Utah
6. Lemarti's Camp, Kenya
Will you be planning an "unplugged" vacation anytime soon?
Post reblogged from Infographication - A Collection of Infographics

Source: infographication
Photo reblogged from Likes & Launch with 7 notes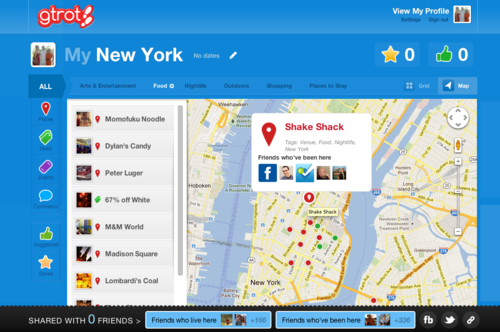 We've got maps! See the most popular things your friends do - in any city. 
Source: likesandlaunch
Photo with 4 notes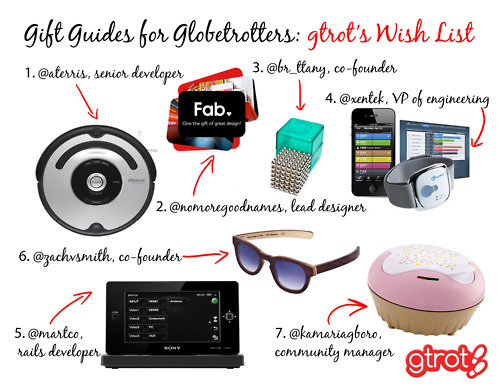 We saved the best for last! The latest Gift Guide for Globetrotters is powered by the gtrot team. Everyone shared one item from their holiday wish list! 
1. iRobot Roomba, $560. 2. Fab E-Gift Card, $100. 3. Buckyballs, $35. 4. BodyMedia FIT Armband BW Weight Management System, $170. 5. Sony Universal Remote Controller, $200. 6. Bob Sdrunk Wood Sunglasses, $495. 7. Sunbeam Cupcake Maker, $50.